Key Lime Martini – Today's Best in Key West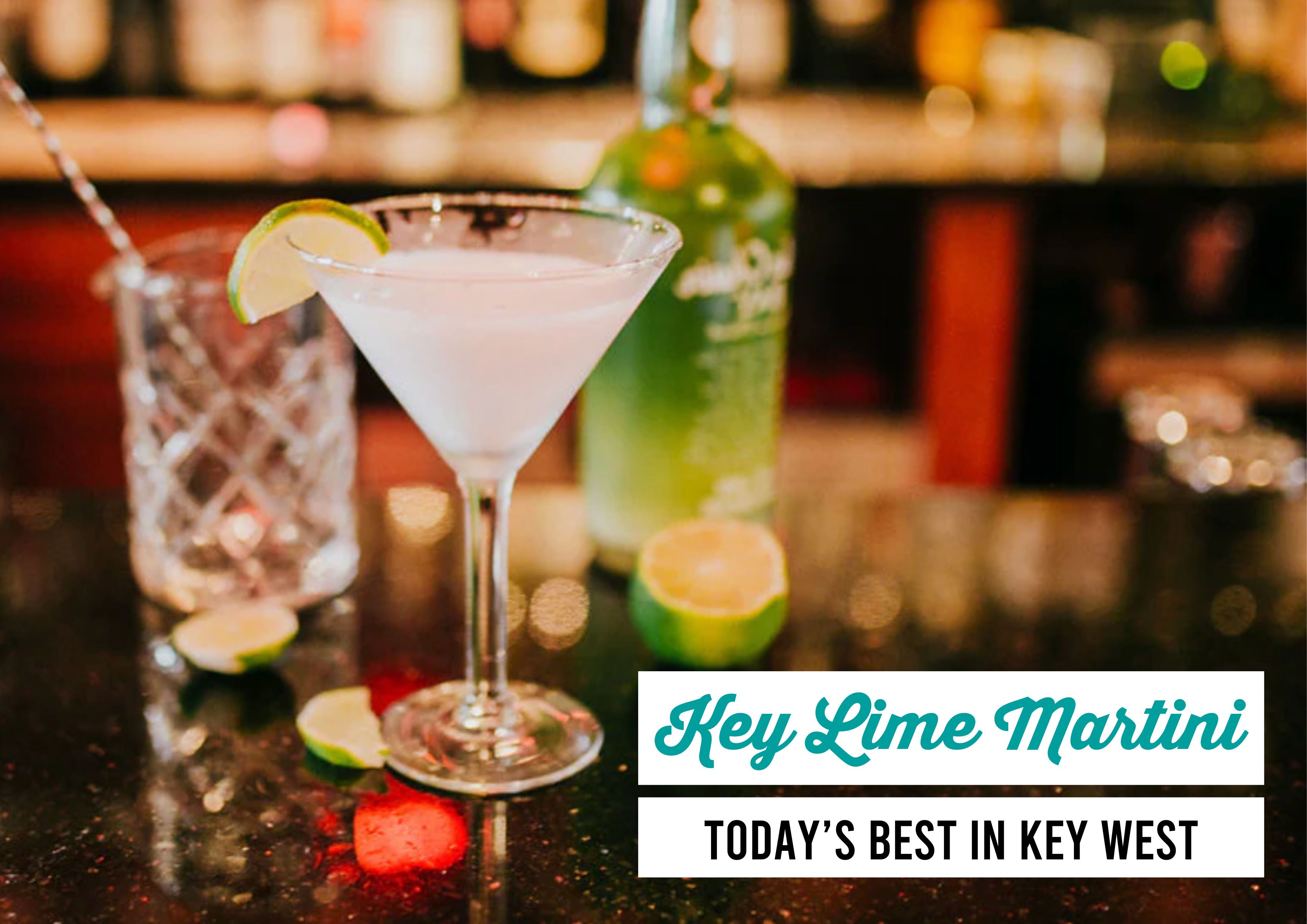 Key lime trees once grew outside every Key West home––and they're still abundant on the island. These diminutive fruits might be small, but don't underestimate their power. Even a teaspoon of juice, or a smidge of zest, brings a dimension of wow to food––and drink. On that note, here's a tasty update on the latest from Key West's creative mixologists, who have masterfully taken our iconic key lime pie and turned it into a bit of delicious liquid art. The following are the top five key lime martinis on the island. And the best part? No utensils required – just sip, savor, and let the tangy nostalgia of old Key West wash over you.
#5 Louie's Backyard
Nestled on the Atlantic's edge since 1971, Louie's Backyard has perfected the craft of Key West cuisine (don't miss their yummy conch chowder). If you're in the mood for a sunset, simply admire the white linens of their stately dining room on your way by, and head out back to The Afterdeck bar. The laid-back ambiance is the perfect complement to their key lime martini, order this, and you're in for a treat! Sweet and tart, it's like savoring a sip of paradise itself, especially when you're perched on the precipice of evening, watching the sun dissolve into the salty horizon. Just a stone's throw away, the exuberant dogs of Dog Beach add an extra touch of joy to this idyllic scene.
#4 Tempt at The Saint Hotel
The alluring sibling of the New Orleans classic resides just a skip away, across Eaton Street from The Tropic Cinema. This makes the Tempt at the Saint Hotel the ideal pre or post-show haven. While key lime martinis might not be officially listed on the menu, a simple nod to Head Bartender Saint Paul grants you access to this hidden gem. Stepping into The Saint Hotel is like entering an Alice in Wonderland adventure, where reality blurs and the extraordinary becomes routine. Brace yourself to believe in six impossible things by the time your second martini graces the table.
#3 Alonzo's
Part of the iconic A & B Lobster House, Alonzo's boasts a Happy Hour that's nothing short of spectacular. From 4 to 6:30 pm, they roll out the red carpet with half-priced drinks and menu items that'll make your taste buds dance. Picture yourself seated at a boardwalk table, overlooking the picturesque Key West harbor as charter boats arrive with the day's fresh catch. The ambiance is refreshing and the light breeze off the ocean delightful. A combination that will set you up for an ideal island evening, one that's only made better when sipping on a cool, sweet and tangy key lime martini.
#2 Café Marquesa
Nestled on a charming corner in the heart of Old Town, Café Marquesa is a true gem. It's not just romantic and intimate; it's also a beloved local secret, known for hosting one of the island's most cherished bartenders – keep an eye out for those distinctive cat-eye glasses and striking platinum hair. Behind the bar, mixing martinis is elevated to an art form, and she crafts them with the precision and grace of a seasoned ballerina pirouetting on her tiptoes. Years of dedicated practice have transformed her martini-making skills into something truly extraordinary – each one a masterpiece in its own right. You don't want to miss this one.
#1 Bagatelle

The Key Lime Martini at Bagatelle in Key West is nothing short of a tropical elixir. Served in a chilled martini glass this concoction blends the zesty punch of key lime with the smoothness of vodka. The result? The most harmonious marriage of sweet and tart flavors. Savor a sip or two with your eyes closed and let it transport you. Sipping this cocktail on Bagatelle's charming patio, with the salty sea breeze and the sound of palm fronds swaying. it's an experience, and a delightful reminder of why we love life on this little island.
Leave a comment
Comments will be approved before showing up.