Romantic Things To Do In Key West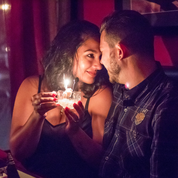 Together on an island known for beauty, adventure, fun, and relaxation, there's no better place to make romantic memories than Key West. Here are ten suggestions, just for the two of you.
STROLL After breakfast on the porch of your old town bed and breakfast, set off for West Martello Tower, home of the Key West Garden Club. Built (but never used) as a Civil War fort, the red brick ramparts facing the Atlantic today provide shelter for winding paths, gigantic canopy trees, and quaint alcoves displaying orchids, bonsai, and lovingly cultivated rare plants. If a love letter were a building, it would look like this. And not to get ahead of ourselves here, but it is a favorite wedding location.
http://www.keywestgardenclub.com
VISIT On the mellow end of Duval Street, near the Southernmost Point, The Key West Butterfly & Nature Conservatory offers a tranquil respite, with 60 species of butterflies flittering flower-to-flower in a glass-enclosed habitat. Sit on benches by waterfalls and wait for a blue morpho to land on your arm (the photo opportunity of a lifetime). For another unforgettable encounter, reserve one of six spots to "flamingle" with Rhett and Scarlett, the resident flamingos, 4:45-5:45 daily.
https://www.keywestbutterfly.com
FLOAT Experience weightlessness together as you drift above the turquoise waters of Key West harbor, side-by-side in the sky on a tandem paraglide. You'll enjoy a bird's eye view of the island, of sailboats, and of life itself. This is a great time to find just the right words or say I love you. Or, to laugh out loud where no one else can hear you.
FEAST Outdoor living is the way of life in Key West, including outdoor dining. Keep it timeless, simple, and classic with a picnic on the beach. Grab Cuban sandwiches and cold drinks from Five Brothers Grocery, Fausto's market, or Fisherman's Café and head to Ft. Zachary Taylor State Park to sit on a sandy beach or hide in the shade of the Australian pines facing the Atlantic Ocean. If you're feeling lazy (hey, we respect that) Lagerhead's Beach Bar & Grill at the water's edge of Simonton Street, facing Key West Harbour, fixes great local fish tacos and burgers you can kick back and enjoy in a beach chair on their white sand beach. What's more romantic than just keeping it real?
https://fishermanscafekeywest.com
https://lagerheadsbeachbar.com
LISTEN Just off Duval Street, the luxurious Gardens Hotel opens its lush, tropical gardens for live music events, Wednesday-Saturday from 5-7, and live jazz concerts, Sundays from 5-8. The hotel's D'vine Wine Gallery offers superb wines in portions from an ounce to a bottle. Recline poolside under the stars, where piano music sounds (and wine tastes) even more special and poetic than usual.
https://www.gardenshotel.com
ADVENTUREIf the Southernmost point isn't quite southern enough––or you're just a couple who always takes things one step further––how about a day trip to Havana? The package includes visa, flights, guide, tours, entry fees and lunch. Retrace Hemingway's footsteps and learn about Cuban history, culture, and arts in an experience that will take your relationship, and your shared travel tales, to a whole new level.
RELAX You may arrive in Key West with some baggage––as in, tense shoulders and lower back pain from crappy airport chairs. Start your vacation off unwinding together, with a couples massage at Ocean Wellness Spa. First-rate massage therapists tailor the treatments to each of you, and to the two of you. You'll walk out feeling easier and happier, what better way to set the tone for your romantic vacation?
DINE Is there any more romantic cuisine (or way of life, or anything?) than Italian? Granted, you can eat Italian food anywhere, but not on a crooked, brick patio in a garden with bromeliads and roosters. Combine authentic Italian cuisine (try the wood-fire oven pizzas or the amazing spaghetti allo scoglio with local seafood like Key West pink shrimp in a spicy tomato sauce); a sappy-yet-charming Euro-pop soundtrack, and wines with names that roll off the tongue, and you have the magic of Onlywood, a few steps off Duval Street.
INDULGE There's a reason chocolate comes in heart-shaped boxes on the year's most romantic day. For many, the way to their heart is through their sweet tooth, and nowhere is this easier than at Better Than Sex: a desserts-only restaurant (that also serves wine, FYI). Expertly baked and constructed in-house, the desserts seduce with names like Cookie Nookie Pie, Tongue Bath Truffle, and Peanut Butter Perversion. With signature drinks, like cabernet served in a chocolate-dipped wine glass, and a décor that is heavy on velvet, lipstick red, and candlelight, this place makes sexy edible.
https://www.betterthansexdesserts.com
SURRENDER Tempt @ The SaintDesigned around the theme of the seven deadly sins and seven contrary virtues, Tempt bar at The Saint Hotel presents craft cocktails with sly innuendo and a lot of style. Whether you play naughty or nice here, it'll be in the realm of boutique spirits, craft bitters, fresh fruits, crushed herbs, fire, ice and lots of flattering, dim lighting. A perfect place to wind down an evening on the town or cozy up before a movie at The Tropic Cinema across the street.
http://www.thesainthotelkeywest.com
Leave a comment
Comments will be approved before showing up.