THE ZESTY TRUTH, Dishin' on Key Lime Pie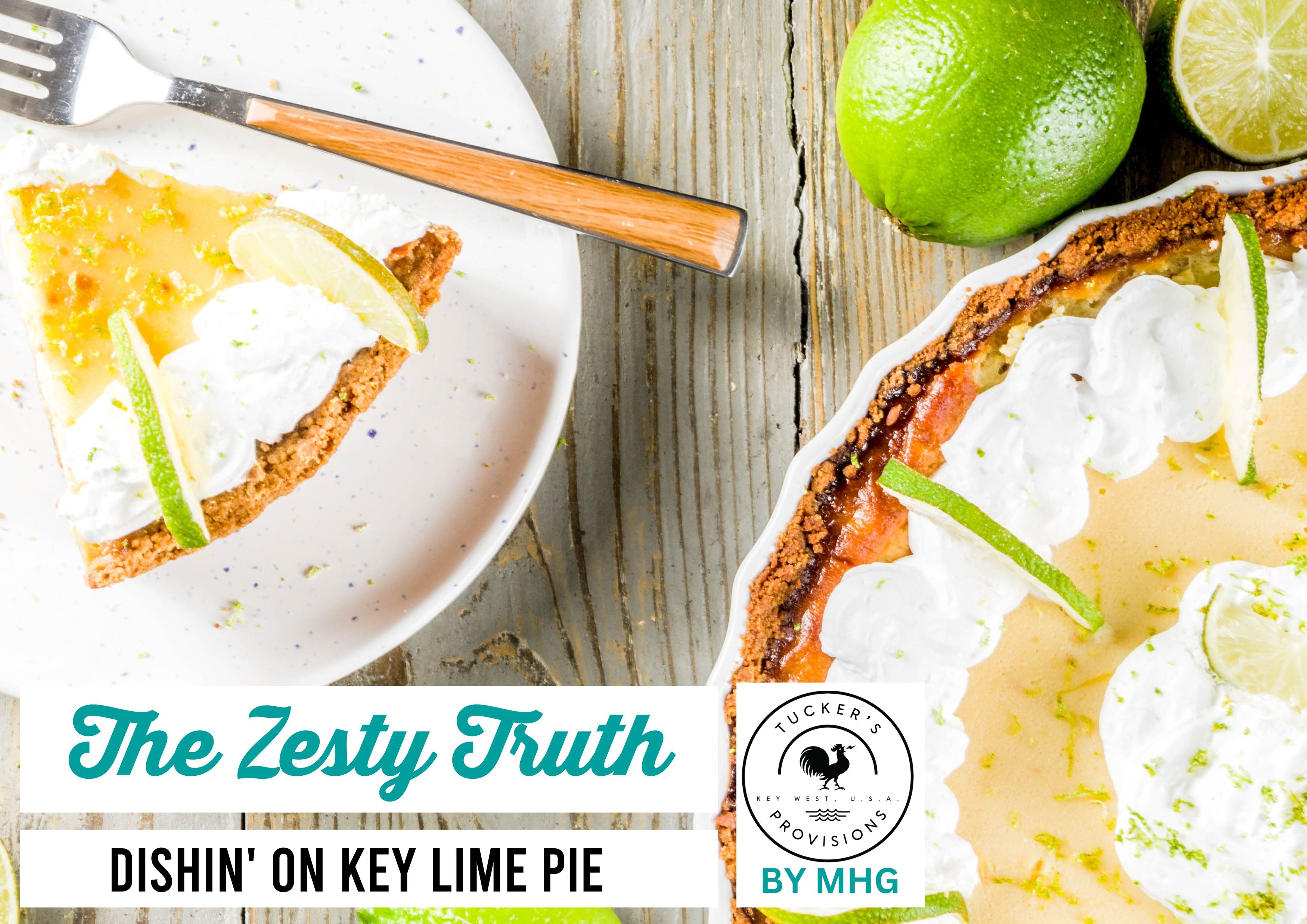 By MHG
Growing up in Key West is a unique experience. The days often filled with saltwater adventures – the best birthday parties happen at the beach - tourism is a season - and we celebrate the sun setting every night.
Naturally, the island life also comes with some island specific icons. There is the Key West Conch, our rather abundant "free-range" Key West chickens, and of course the delicious Cuban cuisine on the island. Among my favorites is a café con leche to dunk my cheese bread in. Read up on these icons on our blog.
One of our most famous icons however, and as the name would suggest is the key lime. This small, tart fruit packs a puckery punch, yet has still managed to win over our collective hearts and minds. Many would say this is largely thanks to the pure magic that results when mixing this sour little lime with any amount of sugar.
Enter, Key Lime Pie.
The Real Deal Key Lime Pie, Photo by Marc Averette
Key limes can take many forms when put into a creative hand. Transforming into an array of cocktails or ice cream, tarts and trifles, key lime candles, potions and lotions. But ask any local, and hands down  no key lime creation even comes close to our beloved key lime pie.
Its velvety texture, balanced sweetness, and tart tang leaves all the competition in its wake. Key lime pie, simply put is tropical heaven sitting upon a graham cracker crust.
From seed, to branch, to fruit, to pie - key limes, and true key lime pie play a significant role in our Keys' culture. It's no wonder then, that locals take it a bit personally and are compelled to call foul when we see an imposter key lime pie trying to steal the lime light (yep, I went there) from this Florida Keys icon.
Uncovering the true color of key lime pie.
The Thorny Wonders:
Key lime trees, with their thorny branches and aromatic leaves, are a common sight in our island paradise. As kids, we learned the hard way that climbing these trees was not for the faint of heart. Those tiny key limes may be tantalizingly close, but the thorns on the branches reminded us to approach them with respect. Despite these prickly encounters, we developed a deep appreciation for these trees. Bringing home the fruit from our successful adventure always turned into mom's key lime pie after dinner that night.
Key Lime on the Branch
A Festive Affair:
An icon like the key lime deserves its own celebration, thus the Key Lime Festival is an annual event in Key West. A highlight of our summer calendar, this festival brings together locals and visitors alike to explore the array of delicious and fragrant key lime creations. Among local favorites are the key lime martini, creamy key lime ice cream, and the chocolate key lime pie on a stick. Yes, you heard it right! Key lime pie on a stick, dipped in chocolate and then frozen for a truly indulgent treat.
Key Lime Pie Eating Contest, Photo by Pamela Childs
Show your True Colors:
Now, let's unveil a zesty truth about the true color of key limes and more importantly, our world famous key lime pie. Contrary to popular belief, authentic key lime is NOT green—it's yellow!
 No Imposter Pies Here!
These small citrus wonders with their pale yellow hue could not possibly result in green anything. When it comes to true key lime pie, the traditional version is a most perfect shade of mellow yellow. The yellow filling, created with the of infusion of the key lime fruit and showing off its natural yellow color is a nod to the authenticity of the pie.
So, should you see a green key lime pie, or worse be presented with a slice of green key lime pie, beware! You are in the presence of an imposter. What to do from there is in your hands, but you've been warned.
Next time you're in the Keys, as you take in the island beauty you may notice the presence of key lime culture, and see that key limes are more than just a fruit here – and key lime pie, the crown jewel of key lime cuisine, is a testament to the festive flavors we embrace in Key West.
Key Lime Fest, by Pamela Childs
So come and join us in the islands, drop by Tucker's Provisions to see us and soak in a bit of the old Key West. Then catch the sunset celebration at Mallory Dock, make a plan to go to Fort Zach tomorrow, and be sure to indulge in a slice of key lime pie before you go!
Leave a comment
Comments will be approved before showing up.