Tuckers Journal - Cuba Trip, 1951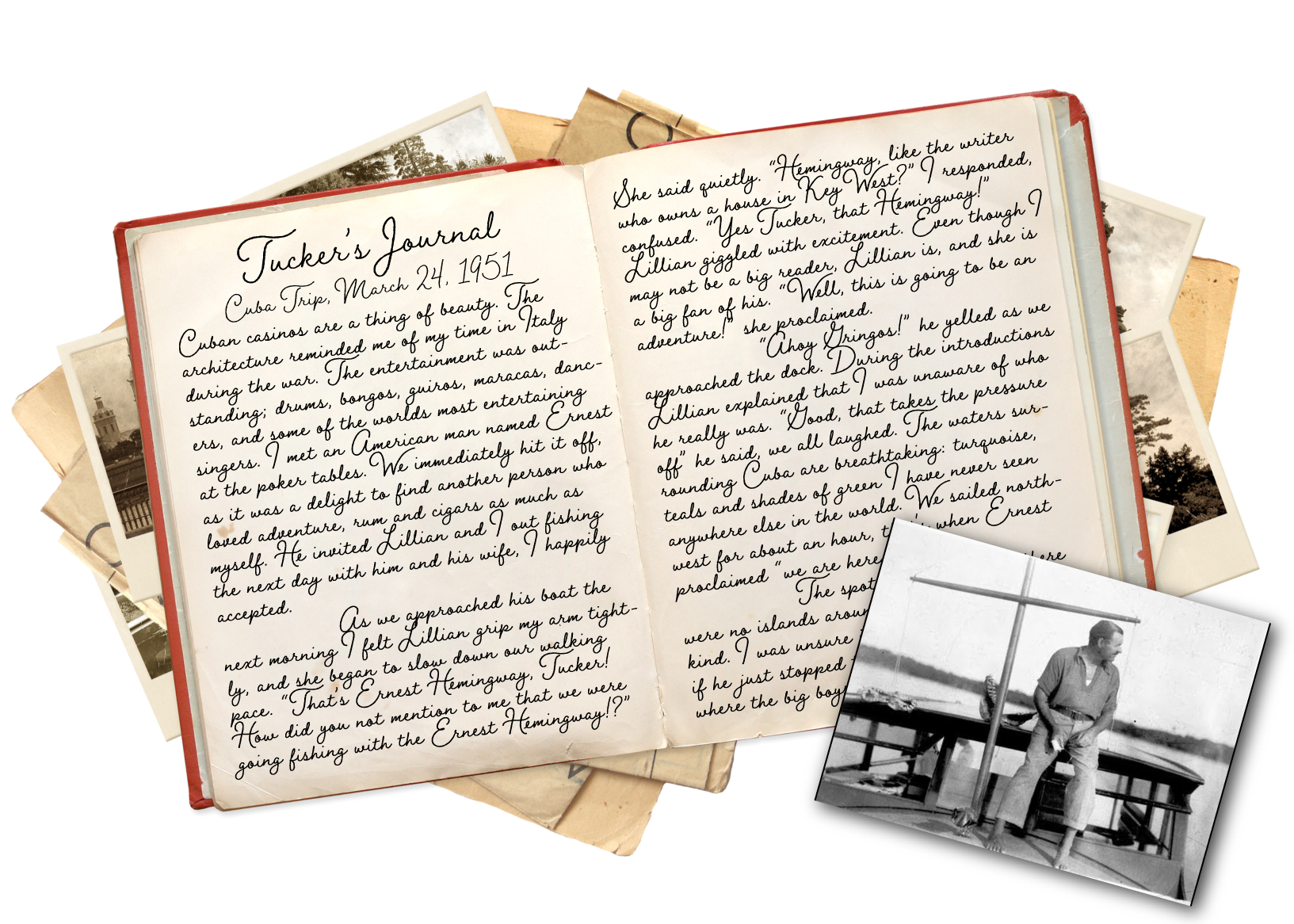 Tuckers Journal
Entry #926 - March 24, 1951
"Cuban casinos are a thing of beauty. The architecture reminded me of my time in Italy during the war. The entertainment was outstanding; drums, bongos, guiros, maracas, dancers, and some of the worlds most entertaining singers.
I met an American man named Ernest at the poker tables. We immediately hit it off, as it was a delight to find another person who loved adventure, rum and cigars as much as myself. He invited Lillian and I out fishing the next day with him and his wife, I happily accepted. As we approached his boat the next morning I felt Lillian grip my arm tightly, and she began to slow down our walking pace. "That's Ernest Hemingway, Tucker! How did you not mention to me that we were going fishing with the Ernest Hemingway!?" She said quietly. "Hemingway, like the writer who owns a house in Key West?" I responded, confused. "Yes Tucker, that Hemingway!" Lillian giggled with excitement. Even though I may not be a big reader, Lillian is, and she is a big fan of his. "Well, this is going to be an adventure!" she proclaimed. 
"Ahoy Gringos!" he yelled as we approached the dock. During the introductions Lillian explained that I was unaware of who he really was. "Good, that takes the pressure off" he said, we all laughed. The waters surrounding Cuba are breathtaking: turquoise, teals and shades of green I have never seen anywhere else in the world. We sailed northwest for about an hour, that's when Ernest proclaimed "we are here!" 
The spot seemed random; there were no islands around us or markings of any kind. I was unsure if he knew where we were or if he just stopped the boat on a whim. "This is where the big boys like to hang out" he stated. It did not take me long to realize he knew exactly where we were and what he was doing. Within 10 minutes of casting our first lines Lillian hooked a fish. Two minutes later Ernest's wife Mary hooked one, then me, then Ernest, and so and so forth for the next three hours. We caught wahoos, sailfish, mahi mahi and I even hooked a large marlin. I battled the fish for nearly 45 minutes, getting it close enough to the boat to see its size. "That must be between 400-500 lbs!" estimated Ernest. "Can you imagine catching one of these on a smaller boat, or by yourself?" I said, "How would you even get it on board?" Ernest thought about it and chuckled a bit, "That gives me an idea for a story, thanks Tucker!"
After returning home Ernest invited over some of his friends for a cookout and some games. We ate the best mahi mahi i've ever had, I was defeated in dominoes by some truly talented Cubans, and Lillian and I danced in the warm Cuban spring weather. I think this will be the beginning of a great friendship with Ernest and Mary."

Photo of Ernest and Mary taken by Tucker during his Cuba trip.
Did you enjoy this short story? Do you love and miss Key West? Sign up for our newsletter to be the first to know when Tucker's next journal entry is posted! Until then you can shop for your favorite Tuckers Provisions items, including our famous rooster hats, on our online store. 
Leave a comment
Comments will be approved before showing up.