LOCAL CLASSICS – A few of Key West's insider secrets...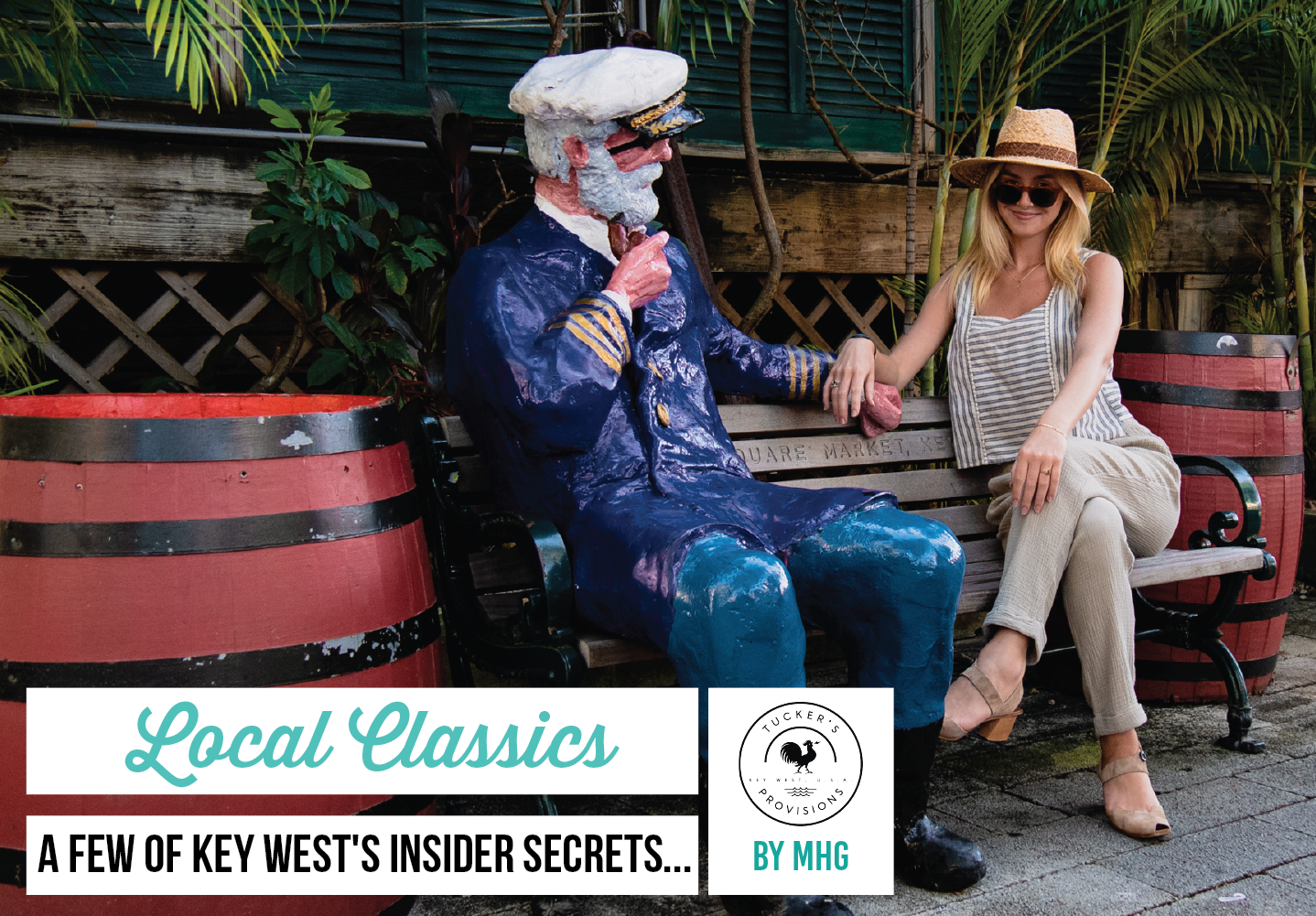 A vibrant and picturesque vacation destination, this little island has big draw for attracting visitors from around the world.
Beyond the tourist traps however, is a well-guarded collection of local hot spots.
Listed below we share a few of these insider secrets for local hangouts in Key West. This is a rare "peek behind the curtain" on some hidden gems that make this island paradise truly unforgettable.
1.     Secret Hideaways: While tourists flock to the popular spots in Key West, locals have their own little hideaways that showcase some of the best of the island. One of our favorite places to get away is the secluded beach at Fort Zachary Taylor State Park. Here you can string a hammock between the Australian pines, light up the grill and enjoy peaceful sunsets away from the crowds.
Fort Zachary Taylor State Park
Or, spend your day exploring the amazing native foliage and blooming tropical flowers at any one of our favorite garden escapes on the island. One beautiful spot is The Key West Garden Club at West Martello Tower. Surrounded by the walls of a Civil War fort that is also a National Historic site, this tropical garden beside the ocean is open to the public, and maintained by member-volunteers of the Garden Club. Another must-see is the rare one-acre plot of tropical gardens in the heart of old town Key West, at the Audubon House. Bring a book and relax in the shade of the tropical hard wood trees, then soak in some local history on the self-guided tour of the historic home.
The Key West Garden Club at West Martello Tower
Easy day at the Audubon House & Tropical Gardens Key West
2.     Mouthwatering Musts: From waterfront seafood shacks to hole-in-the-wall Cuban eateries, the locals know where to find the best conch fritters, Key lime pie, and fresh seafood. For a true taste of Key West, head to Cole's Peace. There you can order up a Cuban coffee and the best breakfast sandwiches in town. For a stellar brunch and rockin' avocado toast drop in at the sister owned, Garden Café.
An island breakfast at The Garden Cafe
The Boathouse has an excellent daily happy hour matched only by its enticing location, on the docks of the Historic Key West waterfront. And finally, El Siboney is the place for authentic and delicious Cuban cuisine. For some unique island character also consider checking out Blue Heaven, Banana Cafe, Cuban Coffee Queen, and the Moon Dog Café. Yum!
Conch Cruising
3.     Festive Feels: We host an array of vibrant events and festivals throughout the year on the island. While these events are not necessarily just local knowledge, they are worth mentioning in a line-up of our favorite things about living in Key West! From our wild and colorful Fantasy Fest celebration every October, to the world class Key West Songwriters Festival, we certainly know how to embrace and share, our island's unique spirit with our out-of-town guests. Also, keep an eye out for the lesser-known events like the Papio Kinetic Sculpture Parade, showcasing whimsical art on wheels, or the Key West Paddle Classic, where SUP enthusiasts take to our blue-green waters surrounding the island for some water based fun!
A deep sea creation at the Papio Kinetic Sculpture Parade
Key West Songwriter Fest at the Coffee Butler Amphitheater
4.     Stay Salty: Speaking of water based fun, when in the islands you really must get out on the water! The ocean surrounding this incredible little island, is by and large what make this place so very special. It is hard to go wrong with water activities down here, but among our favorite things to do is get out on the water for sunset. There are many options to hop aboard a catamaran or sailboat for a sunset sail. It's also highly recommend to get off the island for a day on a paddleboarding or kayak nature tour where you can explore the enchanting mangrove forests and see Key West from a completely different angle. The other water adventures that are near and dear to the local heart are fly fishing in the flats in search of some saltwater giants, and let's not forget about snorkeling and diving. It is always worth getting underwater with a mask, snorkeling or diving to experience the world beneath the waves, will get you a front row seat to see coral reefs and captivating marine life.
The salty side of Key West
Photo courtesy of @joeherron_flyfishing
Tapping into the local wisdom listed above will help you to create unforgettable memories on your next visit to Key West, way better than just a regular tourist experience can produce. So whether you're wanting to sip a cocktail at a locals' bar, or stroll down a quiet lane lined with colorful Conch houses, venture beyond the guidebooks. Embrace the local knowledge, enjoy and respect this beautiful place – and of course, stop in and see us at Tucker's Provisions while you're here!
1 Response
Leave a comment
Comments will be approved before showing up.